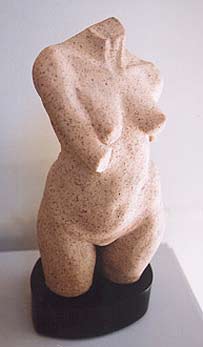 'Nude Study'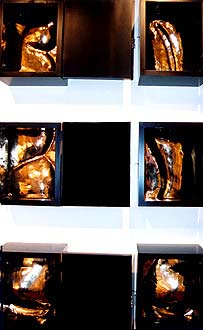 'Peek-a-Boo'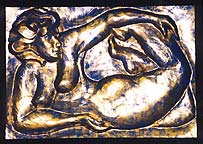 'Moonrise'

My choice of sculpture media is a reflection of my love of materials.

It has included traditional media such as marble, sandstone, alabaster, bronze, ceramics, wood and other media such as concrete, neon, plaster, glass, resin, steel, aluminium, fabrics, plastics, wax and found objects.

The media and technique that I choose for a work are harmonious with the story of the piece and its site.

On this page you can see some of the ceramic pieces that I have created. In several cases I have added a 'patina' to give them a different look.

'Nude Study' is a heavily grogged clay that has been glaze-fired.

'Moonrise' is a bas-relief finished in faux gold-leaf while the forms of 'Peek-a-Boo' have been plated in 24k gold.