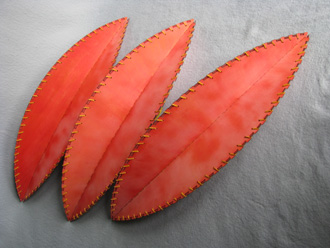 Height
580 mm*
Width
145 mm*
Depth
105 mm
Materials
Hoop Pine plywood

*Dimensions are for one element only.

The colour and leather stitching of this sculpture give it a rich, luscious feel. The elements can be posed differently in relation to one another; vertically, horizontally, diagonally, radially, skewed - you decide!

The finish is an eco-friendly, waterborne stain. I have applied several layers of different colour to create a depth and subtle complexity of colour, then visually piqued the finish with a clear semigloss.