'Nude Descending Stairs with Bird'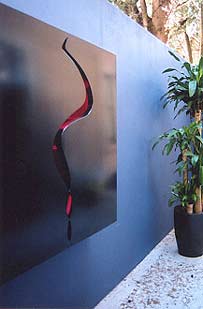 'Dark Continent' - stainless steel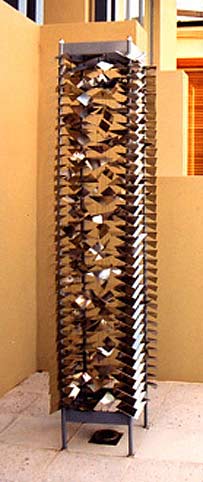 'Shogun' - stainless steel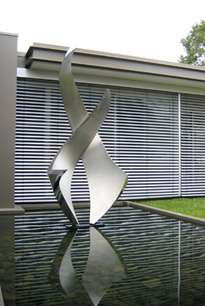 'Sails' - stainless steel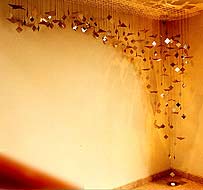 'Neptune's Canopy' - stainless steel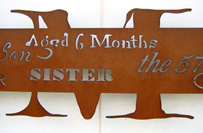 'In Memory' - weathering steel

Steel usually connotes weight and mass. When I think of Calder's steel 'stabiles' I think of a soaring mass of steel, firmly rooted in the ground.

That we can also use steel as fine, floating elements in a sculpture speaks of steel's delightful versatility.

The steel that I most commonly use is stainless steel.

I use stainless is for its appearance and its resistance to oxidation, or 'rust'. I design work around its ability to reflect light and images.

I use polished or linished finishes depending upon the effect I want for a piece.

The surfaces can also be grit blasted and electropolished to introduce different textures and increase the stainless' resistance to 'tea staining' oxidation.

In 'Dark Continent' I've used a baked, powdercoat finish. The square, black suface sucks light in and forms a counterpoint to the sinuous curve that emits a red glow.

The other steel that I like to use is Bluescope 'weathering steel' - because it does rust.

The surface of this type of steel oxidises, forming a skin that slows further oxidation.

It oxidises to a beautiful patina of rich reds and oranges. Once the desired depth of colour is reached, I seal the panel with oil.

At the lower left you can see an example of this steel.

Another example is where I have used the weathering steel to create the sculpture, Cross.